PROACTIVE DEDUPLICATION
Eliminate Unnecessary Duplicates and Optimize Your Storage Usage with Strawberry's Always-on Housekeeper
Strawberry, by Projective, is a post-production collaboration platform that gives creative users an optimal working environment, while minimizing waste on production storage. Providing automated project structure and user-friendly archival / retrieval workflows, Strawberry greatly reduces waste on your post-production storage. But even with these capabilities, users often duplicate content, introducing storage waste and inefficiency… So we are introducing a Proactive Deduplication Service that takes care of editorial chaos without interrupting your editors' creative flow.
ELIMINATE UNNECESSARY DUPLICATES WITHOUT DISRUPTING CREATIVITY
Everyone in post-production loves Strawberry. For system administrators, it reduces admin overheads by automating project structure for media workflows, improving productivity and content security. Editors and artists get an easy-to-use interface for sharing projects and finding rushes and media.
At Projective, our focus is to make your (post-production) life easier, so we have designed the Proactive Deduplication Service, as part of Strawberry. It deploys state-of-the-art methodologies to reliably identify and eliminate file duplicates on shared storage while remaining non-intrusive to editorial users and their workflows. 
Typical IT-based deduplication products do not take into account the crucial links between post-production projects and files, carelessly deleting duplicate files and creating "media offline" situations that highly frustrate your editors. 
This is where Strawberry's Proactive Deduplication Service excels – as it works closely with your existing post-production database, project integrity and associated metadata are fully preserved alongside your creative teams' sanity.
Frees your engineering resources to focus on value-adding tasks

Optimizes post-production storage usage




Non-intrusive to the creative process

Eliminates duplicates while retaining descriptive metadata

Increases production efficiency: more content with the same resources

Reduces costs and increases sustainability

It reduces editorial chaos, so you don't have to!

RELIABLE DUPLICATE DETECTION: How It Works
A simple add-on to any existing Strawberry setup, the Proactive Deduplication Service carefully replaces true duplicate files, reducing storage wastage and administration headaches.
The process begins by detecting duplicates using modern cryptographic hashing algorithms and generating a unique hash per file, also known as a fingerprint. Uniquely designed by Projective for performance and reliability, the service leverages the Secure Hash Algorithm SHA-512, a set of well-supported, cryptographic hash functions.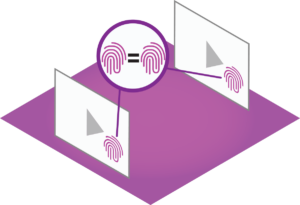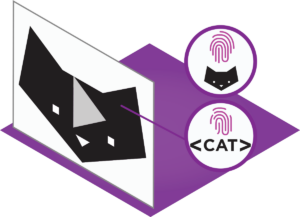 Using this algorithm, Strawberry's Proactive Deduplication process creates two separate fingerprints per file: one for the essence and one for its technical metadata. This protects against common obstacles that media companies encounter with standard IT-based deduplication technologies.
The file fingerprint easily handles file renames or modification dates: if binary content matches exactly between two or more files, they'll have the same fingerprint. And if they have the same fingerprint, they are the same file!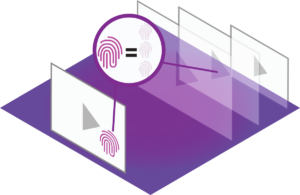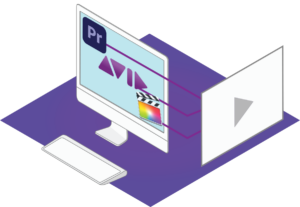 Once a duplicate is identified, it is replaced with a hard link to the other file. For any editing application that works with Strawberry (e.g. Adobe© Premiere© Pro, Avid MediaComposer…), this hard link is no different from the deleted file, as it has the same binary content. 
Additionally, Strawberry ensures that the hard link has the same name as the deleted file, keeping path consistency and preventing "media offline" errors.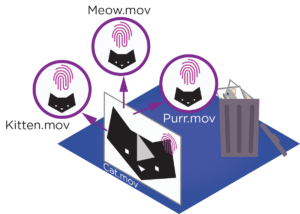 All this is simple to set up within the Strawberry Admin Panel. Once the deduplication service is enabled, the process runs every night and it's transparent to both system administrators and users.  Efficient and always on, the service will take care of messy editorial workflows, so your engineers don't have to!
GAIN VISIBILITY AND CONTROL WITH DEDUPLICATION REPORTS
Daily deduplication reports are automatically created and can be emailed to a specific address, or simply downloaded from the Strawberry Admin Panel. The reports will provide you with useful data points around the percentage of files that have been fingerprinted on your storage location(s) as well as the amount of storage freed up, both daily and in total.
SAVE TIME, MONEY AND RESOURCES WITH PROACTIVE DEDUPLICATION
Looking through thousands of files trying to save space by identifying duplicates is hard work and wastes valuable engineering time. Let Strawberry automate the process without interfering with your post-production workflows, while enabling your technical team to focus on value-adding tasks. 
With the Proactive Deduplication Service your storage usage is always kept at optimal levels with the resulting reduction in power consumption, infrastructure, and manual production costs. Your creative team will continue to work unencumbered by duplication or missing media issues, so they can produce more content with the same resources. Easy to implement and non-intrusive, you can consider the Proactive Deduplication Service your always-on housekeeper.
To learn more about how you can remove the natural creative chaos from your post-production workflows, reach out to the Projective team.